The Froebel Gallery brings a selection of the best fine art in the world to Albany, the Capital District of New York and our national and international patrons.
The Froebel Gallery continues a tradition of more than two hundred years of promoting the humanities, the arts, and education. Following the philosophy of Friedrich Froebel, who professed the positive nature of diversity, the Gallery presents fine art in a variety of styles and media.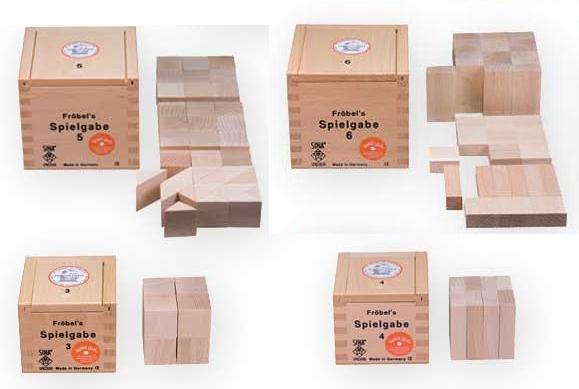 $150.00 includes free shipping worldwide
The first building blocks designed by Friedrich Froebel are a set of eight cubes, which are known as the third gift. The eight blocks of the fourth gift are twice as long and half the width to extend creative play and active learning. Combine the sixteen blocks of both the third and fourth gifts for even more fun. Gifts five and six progressively introduce new shapes for creative play, active learning and design.
These four boxes with sliding lids contain 91 beechwood blocks.
8 one inch cubes,
8 blocks 2 x 1 x .5 inches
21 one inch cubes, 6 half blocks, 12 quarter blocks.
18 blocks 2 x 1 x .5 inches, 12 blocks 1 x 1 x .5 inches, 6 blocks 2 x .5 x 5 inches
Tote Bag with images of Friedrich Froebel and the Kindergarten at Bad Blankenburg is available online
Online exhibits
The Froebel Gallery is pleased to be supportive of:
The Froebel Gallery is honored to closely collaborate with Friedrich Froebel International Research Group Jena, Germany
The Froebel Gallery has both local and international exhibits. For current gallery activities email gallery@froebel.org or call 518.449.1233
Copyright © 1997 - 2011 by The Froebel Gallery. All rights reserved.