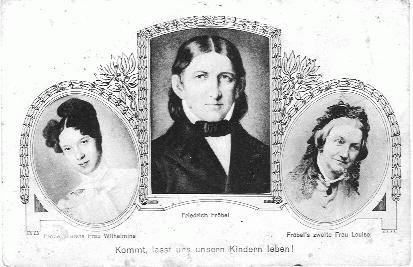 Henriette Wilhelmine Hoffmeister
Froebel had maintained a lively correspondence with Wilhelmine since his university days in Berlin and in 1818 asked her to marry him.
Wilhelmine's simplicity of life style and readiness to serve Froebel and his cause made her an ideal partner. The marriage grew in strength and harmony, reaching a truly equal and mutually supportive level during the last eigth years of her life, when she worked with Froebel on the Gifts for the first Kindergarten.
Louise Levine
Louise joined the Keilhau community in 1846 for idealistic reasons, helping out in the household. She made it her special duty to look after Froebel when the ordinary tasks were completed.
Having been without a close relationship with a woman for some time now, a genuine counterpoint which was essential for the ripening of the fruits of his thinking, Froebel took Louise into his confidence. She was genuinely interested and asked to be trained as a Kindergarten teacher. Mutual respect grew into affection, love and finally marriage at Whitsun 1851.
links to other websites:
the above extracts are from A Child's Work by Joachim Liebschner
buy Froebel Gifts online from the Gallery shop
Copyright © 1997 - 2008 by The Froebel Gallery. All rights reserved.