A beautiful piece of Rudolstadt porcelain, each flower is a child.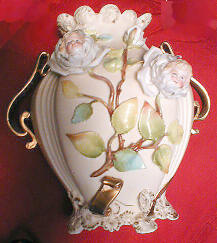 Friedrich Froebel demonstrated his new approach to early childhood education at Bad Blankenburg in the Principality of Schwarzburg Rudolstadt.
Kindergarten was the name he created for his new concept; a garden in which each child could play and explore nature under the guidance of gardeners of children, the kindergarten teachers.
Friedrich Froebel chose the motto, Kommt, lasst uns unsern Kindern leben, for his new approach to early childhood education. It means let us live with and for our children.
Porcelain making in Thuringia began in 1760 under the patronage of Prince Johann Friedrich of Schwarzburg Rudolstadt. The raw materials for the factory came from the principality; sand from Koenigssee and Rudolstadt. Kapselton (special type of clay) from Coburg and porcelain soil from Gebersdorf near Graefenthal.

This particular piece of porcelain was made by New York and Rudolstadt Pottery (1882-1918). The mark on the base shows the letters RW inside a diamond with a crown surrounded by the words Germany and Rudolstadt. This particular mark was used between 1895 and 1906.
links to other websites:
This porcelain vase has hand painted scenes of Rudolstadt, Bad Blankenburg and Schwarzburg in 1850.
Copyright © 1997 - 2008 by The Froebel Gallery. All rights reserved.