Gallery shop

secure online ordering of the original Froebel gifts and blocks
Gallery Artists

representative images of their work
Froebelia

low cost items with artistic qualities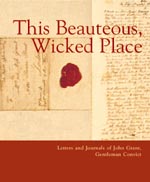 This Beauteous Wicked Place is priced at AUD $29.95. Copies can be purchased through the National Library Bookshop or bookshops throughout Australia. For sales inquiries please telephone 1800 800 100; Email: nlasales@nla.gov.au; Fax: 61 2 6273 1084.
John Grant, Gentleman Convict
These extraordinary letters and journals tell of 27-year-old Grantís 1804 transportation to Australia for life, following his conviction for attempted murder. Clearly, the papers captured Cramerís imagination and inspired her five-year pilgrimage of detailed research, translation and writing.
Described as a gentleman convict, John Grantís story is an arresting and beguiling tale of love, friendship, injustice, violence and isolation which makes both fascinating and compulsive reading.
To begin with, John Grantís trial for murder is appalling. Prospective readers can expect to be sympathetic as the circumstances leading to his predicament transcend the centuries. Indeed it is some of the well-known features of the human condition love, lust and pride which cause the downfall of the young, impressionable, passionate (and highly literate) John Grant.
Grantís trial, widely considered an injustice, attracted the support of many eminent businessmen, who signed a petition pleading Grantís case. A political scapegoat, Grant was sentenced to death by hanging. All was not lost though. Grantís devoted and somewhat ingenious sister, Matilda, composed a beautifully-crafted letter (documented) pleading her brotherís case to the daughters of King George. Matildaís letter worked a treat and Grant escaped death but was sentenced instead to transportation to the new colony of New South Wales.
Grantís account of his journey to Australia comes as a surprise. He stowed delicate glass and china, seeds, his violin and elegant clothes in his cabin on the Coromandel and was most concerned that he had lost the silver clips for his breeches.
The most amazing thing about the Grant Papers is that these original letters and journals still exist. These treasures even survived a dip in Sydneyís harbour waters, eventually being donated to Australiaís premier documentary collection. Some of the letters and journals are not in brilliant shape, but they are safe and being looked after, available to researchers, now and in the future, to analyse, discover and enjoy.
Enthusiasts of biography and history, especially early colonial history, social researchers and libertarians, and lovers of poetry, life and love will find Yvonne Cramerís book, This Beauteous Wicked Place, published by the National Library of Australia, a joy to read and own.
The book was launched by Edmond Campion in Sydney at Vaucluse House, where John Grant spent some of his time. Ms Yvonne Cramer is a well-known Canberra-based writer and broadcaster.
Copyright © 1997 - 2008 by The Froebel Gallery. All rights reserved.