The Froebel Gallery of Albany, New York, in conjunction with EBA Dance Theatre, 351 Hudson Avenue, Albany, announces the return exhibition of lyrical paintings by David Waggoner, also known as Lorenz von Wagner.
Waggoner is a direct descendant of Swiss psychoanalyst Carl Gustav Jung. He is the publisher of A&U, America's AIDS Magazine, and has returned to showing with Albany, New York gallery owner and arts representative, John Froebel-Parker.
Waggoner's one-man show features twenty oil paintings. A well-known lyrical abstractionist, Waggoner's work evokes the art of such abstract expressionists as Mark Rothko, Joan Mitchell, as well as earlier painters Gustav Klimt and Egon Schiele. Known as a colorist, Waggoner's paintings in this latest showing, expand upon his elegant application of painterly materials.
According to Froebel Gallery director, John Froebel-Parker, "von Wagner paints with an eye for both dazzling color as well as mystical design; his canvases don't shock, but they beckon you to consider the materiality of color; they are the return to the optical in art, rather than the cliche-ridden political."
In his last showing in the Albany area in 1992, Waggoner, whose unique VW imprimatur on the verso of his canvases reminds one of Whistler's odd use of the butterfly symbol as signature - eschews much of what is fashionable in today's art world. His otherworldly use of color, space, and symbol intimates a bridge to Waggoner's forebear, the Swiss giant of psychoanalysis, Carl Gustav Jung. The latter's belief in archetypes and the collective unconscious is what makes these paintings more than just elegant pictures. They are mystical, spiritual, and life-affirming abstracts for a world that has grown oftentimes too materialistic. One gets lost in their paint handling, Wiener Sezession (Vienna Secession) aesthetic sensibility, and Jungian principle of equivalence: tension and release.
Exodus, one of the featured paintings, portrays this very concept through the interplay of the agitated and heavily loaded brushstrokes in the foreground and the serene color of the thinly washed background.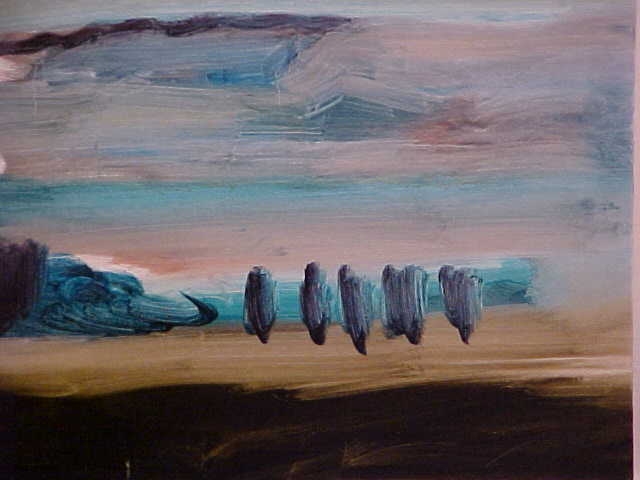 Exodus, oil on canvas
According to Waggoner, "I don't paint toward concreteness. I would rather that my paintings lead the viewer to another world, one not so fraught with stress. A plane of existence that is both visible to the naked eye yet perceivable by the intuitive self." This new series of paintings on canvas, sized from 10 x 12 inches up to 36 x 48 inches, are examples of Waggoner's interest in attracting the viewer to this new dimension.
Waggoner said his painting style isn't easily defined. "It is on the cusp between landscape and abstraction. Color is a very emotional aspect to the painting."
For more information or to view the exhibition, contact John Froebel-Parker, Director, at 518-449-1233 or by email at director@froebelgallery.com