Wren Panzella is an artist who incorporates the fusion and in-motion culture of the United States with her work based on jazz and baseball themes. Seemingly disparate topics, Panzella has found the link that binds in the fast- paced movement associated with both. Her work, though abstract, is also figurative, allowing the subjects to jump off the canvas or paper to interact with the viewer. Her sketchbooks are filled with on-site studies-at Justin's Restaurant in Albany on jazz nights, at Yankee Stadium, at the Saratoga Jazz Festival, etc. Her paintings, lithographs and prints do not intend to capture a single moment, a single note, a single strike, but rather capture the spectrum of action that can never be associated with a single second in time. However, the viewer feels the universal moment that evokes the entire game, the entire set, the entire evening in a genuine jazz cafe.
According to Capital District art critic Peg Churchill Wright of the Daily Gazette, "The jazz scenes are are cacophonies of blurred action, sharp angles and melting lines; hot color underscoring puctuation points in black. There's so much going on in them that you can almost 'hear' the music. The cymbals and the saxaphone make most of the visual noise in 'So Frantic.' Electric blues kick up the color volume in 'Under a Blue Jungle Moon' and 'Hit and Run'."
Panzella studied formally at the University at Albany where she feels she received the basics of art after having "crawled around in plastic bags" having grown up in the 60's and 70's with conceptual art. It is there that she began to use her unique technique of glass transfer paintings, a technique invented by Prof. Bob Cartmell of the University. Unlike glass paintings, which are known as early as the medieval times, the glass transfer technique allows for the transfer of the image to paper or canvas.
Panzella is now known beyond the Capital District. She is the official artist of the prestigious Antibes Jazz Festival in Antibes, France (July 1997) and will exhibit at the Musee Naval et Napoleonien at the Caps d'Antibes. Facilitated by The Froebel Gallery and Gallerie Les Cyclades in Antibes in collaboration with the Bureau des Affaires Culturelles de Antibes, Panzella's work will highlight the music of one of the world's oldest jazz festivals in existence.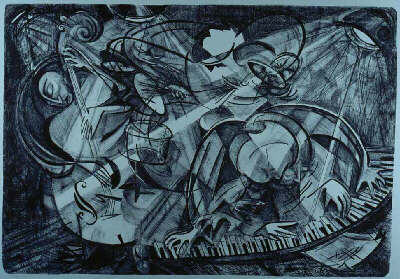 TITLE: Piano Trio
Medium: lithograph
19 3/4in. X 28 1/2in.
1990

To see this image in greater detail or to see more of the artist's work, please contact the Gallery for photographs. We can also schedule an appointment to see her work in person. Contact information is provided on our homepage.