Lorenzo, son of a Spaniard and an Italian woman, is Cuban by birth and a resident of Madrid by choice. The story of his life begins when his eyes open in the barrio of El Cerro on that Antillian island of mixed ethnicities and colors where his spirit was formed. His education with the brothers of the Marista order and his terrible experiences in the revolution implant pleasure or displeasure, it is not sure which, on his psyche. It takes root in the anguish caused by the idea of trying to survive at all costs.
A highly educated man with courteous manner, he is surprising when contemplated through his paintings. In these pictorial works the element of the macabre acts to unite dramatic pleasure with a profane need to dissect. This seems to place him in the most pure and demanding Spanish School of Death and Hideousness (Escuela Española de la muerte y el esperpento).
Lorenzo Mena's painting transports us in memory from the heart of the Middle Ages (las Danzas de la Muerte), passing through the purest sensation of ridiculousness and the futility of human evolvement (Valdes, Leal, Calderon,Valle Inclan, etc.), to the cruelest techniques of self-analysis of the ego. The latter, after having examined itself fiercely in the mirror, in this case a painting, reflects in the others a discovery of that which is essential and existential, though boney and fleshless...with no exit. All this is adorned with signs of Macumba and black magic with symbols of voodoo worshipers who are locked in a dream.
Lorenzo is an impious penitent anchored in the hardest and most inflexible of the realities which pursue him - a reality boisterous and clear in its cruelty towards the essence of that which is absolutely necessary.
Lorenzo is a visceral man and full of visceral archetypes. When one looks at his artwork, one has the feeling of being lungs, or a heart, a liver or kidneys. Later one feels like skin on living flesh or like a scream contained in the space which traps it and devours its sound.
Lorenzo is an existentialist of his time who accepts the tragic feeling of life and resolves it in grotesque caricatures, masterfully painted in fits of delirious laughter - a laughter which tells the viewer of the futility of all attempts to escape death and putrification.
Lorenzo is, in short, a man essential in that which is essential - so proud and valiant in his secret that in his work he does not allow the least bit of superfluousness or that which is not truly transcendental.
The series which is exhibited - Telarañ (A Spider's Web) - is a trilogy in which the painter gives form to polymorphic feelings about human destiny. A man who is all eyes and has multiple hands opens the series with a gesture of one whose duty it is to keep watch during interminable hours of emptiness and to contain the smallest breaths of existence. But existence is capable of more, and it appears in disarray through the tiny crevice of the door which the man tries to close with his body. Symbols, the forces which strengthen, are a jumble of diverse forms which culminate in this human figure full of ambiguities and questions-qusetions which attempt to resolve themselves in an impulsive move towards height, verticalness, and the reverse self-in short, towards another door.
Here and now, Lorenzo Mena's spirit manifests itself to us as that of an awe-inspiring painter in the depiction of experiences seminal in the formation of his character.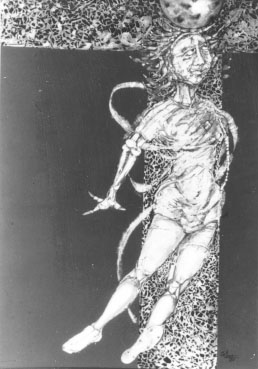 TITLE: En La Porteria
Please contact the Gallery to receive photographs of his work or to schedule an appointment to see the work in person. Contact information is provided on our homepage.
Works in Museums and Public Collections
Museode rte Actual de Ayllon, Segovia
Museo Municipal de Segorbe, Castellon
Museo de Arte Contemporaneo de Granada
Museo de Zabaleta, Quesada, Jaen
Museo Provincial de Cuenca
Museo de Arte Fra Angelico, Universidad Catolica de la Plata-Argentina
Bibliography
Varios Autores: Lorenzo Mena (monografia). Coleccion Artistas de Hoy, Ediciones Movipress, S.A. Madrid, 1982.
Antonio Leyva: Lorenzo Mena ( monografia). Coleccion Arte Espan~ol Contemporaneo, Editora Fernan Gomez, Madrid, 1987.