Barbara Kur Green was born in Brooklyn, New York and graduated in the same class from Erasmus High School as another well-known personage in the arts - Barbra Streisand. Her undergraduate training was at New York University, followed by two years at the Instituto Allende in San Juan de Allende, Mexico. There she studied printmaking, stone lithography, and etchings. She completed her MFA at Allende. Known for expertise in figure work, she gained invaluable experience with Harvey Dinnerstein at the National Academy of Design (New York) and the Arts Student League (New York). Perhaps her most unique live figure experiences were in the boxing gym run by Cus Damato in Catskill, New York, where the young Mike Tyson honed his skills.
Her boxing portraits hang in many boxing enthusiasts' collections, including Tyson's, while her portrait of Damato hangs in the permanent collection of the Boxing Hall of Fame.
Recent work has included an entire exhibition based on traditional ballet. The Froebel Gallery will present these in a Capital District exhibition at eba Dance Theatre in Albany at a future date.
Green regularly directs her artistic talents into another, totally different direction - Jewish history. Her Holocaust exhibition, Der Zirkus beginnt - The Circus Begins, includes an entire section dedicated to the various groups singled out for persecution in the Third Reich. Others attempt to describe the inhuman philosophy and practices of the Nazi movement by interpreting them as elements of a macabre circus, complete with fanfare, big tents, ringleaders and imprisoned beings. This moving exhibition was visited at a previous Froebel Gallery site in Albany by Mrs. Matilda Cuomo, wife of Governor Mario Cuomo of the State of New York.
Another aspect of Jewish history treated by Green is the Sephardic experience during the Expulsion from Spain. I Stood Terrified has been shown by The Froebel Gallery, at the Trouro Synagogue in Newport, Rhode Island, and at the Joseph Gallery of Hebrew University in New York. Green commenting on this series said, "When I began work on the series, I did a lot of research. I focused mainly on the fourteenth through the sixteenth centuries. They kept meticulous records during the Inquisition; and, in reading about the period, I became interested in people's stories. So I decided to commemorate certain people by using them as subjects for some of the paintings. I had no idea what they actually looked like, so I had friends pose for me. I chose those who I imagined looked right or who felt right to me based on what I knew about the victims."
Barbara Kur Green's boxing works have been shown on television in the series Heroes, hosted by Joe Namath and in photo montages televised during some of Tyson's championship fights.
Barbara is featured in Shadows and Light, by Eunice Agar. American Artist, February 1994. pp. 38-43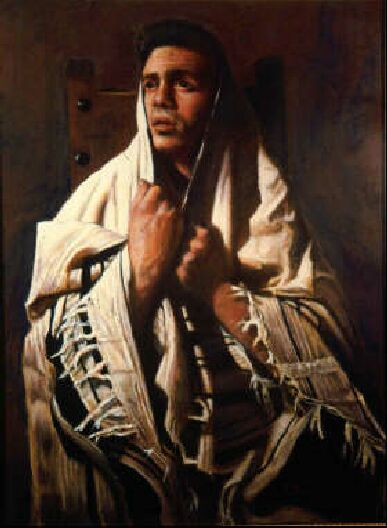 Hidden Prayers 1994
Medium: pastel on sanded board, 22in. X 17in.
Please contact the Gallery to receive photographs of her work or to schedule an appointment to see her work in person. Contact information is provided on our homepage.