Friedrich von Waldenburg affectionately known as "Fritz," is a local painter by the designs of destiny.
His formal training and background were solidly European. Born in Germany he graduated from the internationally renowned Technische Hochschule (Technical University) in Berlin, and studied at the Berlin Royal Art Academy (Kunstakademie) founded in 1696.
Berlin, home to the German Expressionists/Modernists--Pechstein, Rottluff, Kandinsky, etc. was a mecca for great fervor and originality in painting. It was in Berlin that Marc Chagall had his first one artist exhibit and, indeed, it was in the gallery of Oskar Kokoschka's magazine "Der Sturm" (The Storm).
It was also the mourning ground for art which the Nazi Regime had declared "entartet" or degenerate. Much of it was sold off for needed capital by the Nazis, others were burned, and much was exhibited in a Nazi art exhibit called ENTARTETE KUNST (Degenerate Art) which became all too popular, so much so that the Nazis had to close their own exhibit.
It is from this city of great creativity and great intolerance that Fritz von Waldenburg comes to us. He is an historically important figure even before his art is viewed by visitors to Froebel Gallery at eba Dance Theatre, as his life has spanned the period of German artistic freedom, Nazi artistic persecution, the hell of world war, the period of reconstruction after war and then emigration to a new land and culture.
All of these experiences are amalgamized in his work, which would draw scrutiny and interest were it exhibited anywhere in present-day Germany.
The Director of The Froebel Gallery is very proud of this exhibit as it has a real feel of fusion of Old World/New World and Germany in the Weimar Republic period.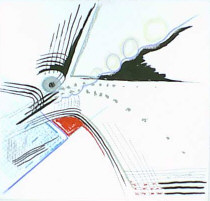 untitled, acrylic on canvas, 40 x 40 inches.
Fritz exhibit October 5 to 31, 2002 at eba Dance Theatre, corner of Hudson and Lark Streets, Albany, New York call 518.449.1233 for more information