F.E. Green is perhaps one of the most accomplished painters living today following in the footsteps of the world-renowned Hudson River Valley School of painters. His media are pastel and oils. The scenes which he paints on-site, plein-aire, are generally located between Saugerties and New Paltz along New York State's Hudson River. He frequently paints on-site at Olana, the residence of Frederick Church. Church ranks amongst the most highly recognized, nationally and internationally, of the Hudson River Valley painters. His home is now open to the public and is considered a premier museum site in the United States.
Green is fascinated and dedicated to the effect of light on the breathtaking Hudson River landscapes. Anyone who has visited Olana will remember the awe-inspiring juxtaposition of sun and clouds as storms blow up the valley and mix with sunbeams streaming through breaks in the sky. Or perhaps the visitor has been there on a late summer day as haze, created by the sweltering sun, lifts off the river and lazily rises but never covers the tops of the surrounding Catskill Mountains. Green finds inspiration in the work of the Luminists and Hudson River Valley painters such as Kennsett, Church, Gifford, and Martin Johnson Heade.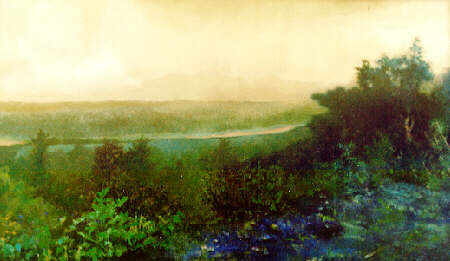 TITLE: View of the Hudson Valley
Medium: oil on linen, 24in. X 40in. 1994
To see this image in greater detail or to see more of the artist's work, please contact the Gallery for photographs. We can also schedule an appointment to see his work in person. Contact information is provided on our homepage.
Curriculum Vitae
1968 A.B. Degree in painting from San Diego University
1972 MFA Degree, Tyler School of Art, Temple University. Studies in Rome as part of Temple program
1972-1975 Department Head for Printing at San Miguel de Allende, Mexico
1975-1984 New York City, private teaching: printing, and painting
1984-present Hudson River Vallery region: painting and teaching