Alkis Voliotis began his career in his native Greece, where he studied art restoration at the Athens Byzantine Museum. In 1973 he traveled to Paris where he met the famed German abstract painter, Hans Hartung, with whom he collaborated from 1974 to 1988 in the south of France.
Voliotis is known, not only for his mosaic and icon restoration work, but also for his original mosaics, paintings and photographs. In the latter two art forms he pursues a freer form of expression. He was selected by Jaqueline Picasso, widow of Pablo Picasso, to prepare the photographs for the 1986 Picasso Exhibition catalogue at the Museo de Arte Moderno in Madrid. Voliotis also created the mosaic portrait of Nikos Kazantzakis, author of Zorba the Greek and The Last Temptation of Christ, which is on permanent display at the Nikos Kazantzakis Museum in Iraklion, Crete.
Currently he is the official photographer for the extensive archeological excavations at Santorini, Greece. Santorini's once-flourishing civilization, destroyed by volcanic eruptons more than 3500 years ago, is thought to have inspired the legend of Atlantis.
The painting presented here today is part of Voliotis's Voices in Space series. Created with pigments and volcanic ash from Santorini, the mysterious interplay of shape, color, and texture has been hailed by such noted critics as Michel Faucher of Paris. According to Faucher , the images are "lost winds in a limitless universe...the likely destinies of our common future."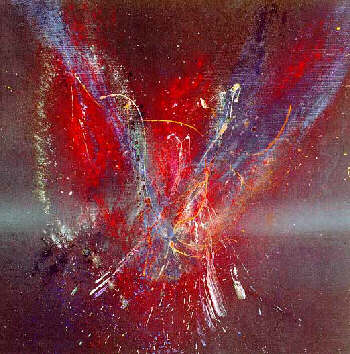 Voices in Space
Medium: acrylic, pigments, volcanic ash on canvas, 60cm. X 60cm. 1991
To see this other works by the artist, please contact the Gallery. Or call to schedule an appointment to see the work in person. Contact information is provided on our homepage.