Fred Douglass de Mayo started his career in the arts as a ballet dancer - a soloist with the National Ballet Company. He studied dramatic arts with Gloria Monty at the Abbey Theatre School with such colleagues as Marlon Brando and Walter Matthau. He studied under Ballanchine and was a principal dancer with the Metropolitan Ballet. Though he still enjoys teaching master classes in dance, his more recent attention has turned to painting.
German painter, Auguste Pirrung (Woodstock, NY), introduced him to the gruelingly painstaking process of byzantine icon painting. These are reconstructions of late 14th and 15th century icons. "Tante Dudav," as Auguste Pirrung was affectionately known by her students, led him step by step through the process of preparing the surface with gesso, and applying layer after layer in set fashion as did the icon masters of old. De Mayo almost from the start was recognized for his inborn ability to recreate these treasures of art and spirituality and soon was invited to show them in a solo show at Hunter Gallery.
De Mayo explains, "I love having to stay within the confines of paying extraordinarily close attention to the details and avoiding any temptation to improvise. The formality of the faces fascinates me. They have no independent characteristics. It's the discipline. It's the meditation."
Recently, The Froebel Gallery exhibited his reconstructions of the Deesis Cycle consisting of seven images and paintings from the Novogrod School. His work was recently presented to Fr. Frank of the Holy Cross Church in Kingston, New York. For Father's 50th birthday, he was presented with a reconstruction of the Icon of the Virgin of Konevetz.
From Ballanchine to brush, De Mayo continues to enrich cultural life with his interpretation of body, mind, and soul. The Froebel Gallery is honored to be able to bring his work to its patrons.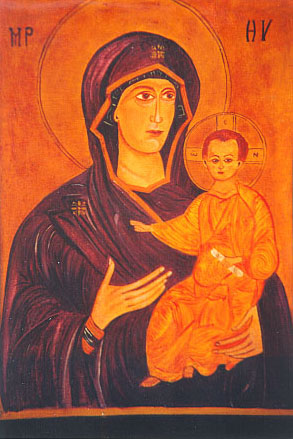 TITLE: Icon of the Blessed Virgin
Medium: Reconstruction (1991) of Icon of the Virgin of Somolensk,
15th century School of Novgorod, original was formerly in Riabushinsky Collection,
reconstruction is oil over gesso on wood panel 11in. X 15in.
Description: The Blessed Virgin Mary is holding the Christ child on her left arm while she points to him with her right. This is the Byzantine motif of the Virgin "hodegetrita" or "pointer of the way." The original was sent from Jerusalem by the Empress Eudoxia, wife of Theodius the Younger, before her death in 453 AD to her sister-in law, Tpulcheria. It was so highly regarded in the Justiniac Era that it became the emblem of Byzantium. In the 15th century a version was presented to the Cathedral of Somolensk.
Please contact the Gallery to receive photographs of his work or to schedule an appointment to see the work in person. Contact information is provided on our homepage.