Katherine Englaender Cohen, Kathy Cohen, is a permanent artist with the Froebel Gallery. Kathy, whose family were intimate friends of seer, Edgar Cayce. She is almost trance like in her creations: brightly colored watercolor and mixed media pieces depicting views from windows onto Capital District or fantastical scenes, swirling abstracts on multi-textured paper from the Mind's Eye series, and now current work on glass and windows with rich, jewel-like colors, textured with rice paper or sterling silver and semi-precious appliques. This series, entitled Healing, was recently previewed in a Froebel Gallery exhibition. Almost all pieces were immediately acquired by long-time collectors of her work and first-time admirers.
Kathy, who is basically self-taught, considers herself primarily a colorist, though her followers feel she interprets visually for them a joy of living, of friendship, of optimism - sometimes in the light of seemingly trying times, and of the spiritual, albeit internal world so greatly neglected in contemporary society. As was Cayce, Cohen is a visionary, whose revelations are more often than not shared through creations which may seem chaotic at first glance, but which immediately transport the viewer to a special place, one only an elevated soul could take us. Her original and commissioned work can be seen in many Capital District collections, in France, and Berlin. Her interpretation of Friedrich Froebel's birthplace hangs in permanent exhibition at the Froebel Geburtshausmuseum, in Oberweissbach (Thuringian Forest), Germany. Healing, her most recent collection, will contain original jewelry of hand-cut sterling silver, embellished with her painting. With nearly 300 pieces of her work acquired in the last 5 years, she has garnered the honor of being one of the Capital District's most prolific and sought after artists. The Froebel Gallery accepts commissions for her collectable yet useable painted plates, frutieres, and wine goblets.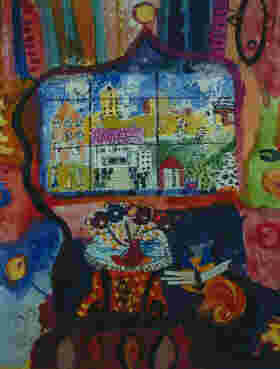 TITLE: Window with Cat
Medium: mixed media on paper
Please contact the Gallery to receive photographs of this or her other work. Or schedule an appointment to see her work in person. Contact information is provided on our homepage.